Utility Line Clearance Miami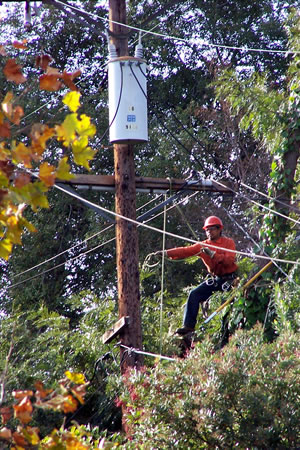 While our tree removal services often fulfill an aesthetic desire, our work when it comes to clearing utility lines is critical vis-à-vis safety. The unruly growth of branches that interfere with your utility lines can be an extremely dangerous situation and should always be addressed immediately.
In most circumstances, the removal of these hazardous branches is the responsibility of the property owner, not of the power company. This means that you are liable for not only the financial repercussions of these precarious branches but also for more serious consequences in the event that a person is injured (or worse) as a result of your branch. Consequently, time is always of the essence when it comes to removing hazardous branches from the area surrounding utility lines.
In the event of an unpredicted storm or other inclement weather, you may find yourself vulnerable as a result of your stray branches. If we can offer you one piece of advice, it's this: take care of your trees before extreme damage is caused, so that you'll save yourself large amounts of time, money and hearth-ache in the long run. We've dealt with many unfortunate scenarios that could have been prevented with a little foresight!
Many people are aware of the severity of the issue, but are unaware of the fact that it is their personal responsibility to take care of the situation. Additionally, since cutting these branches requires a great deal of skill, high performance tools, and immeasurable amounts of safety, it is work well beyond the capacity of an amateur.
Fortunately, we are here to provide with you licensed professionals that have invaluable experience in regard to all aspects of tree maintenance. We implement the highest level of safety concerns in every dimension of our work, ensuring that our work is not only performed promptly, but carefully. Contact us today, and provide you and your loved ones with the safety they deserve.
5 reasons why you should call
SoFlo TreeService
Text or Email your photos for a FREE Estimate
Emergency 1 Hour Tree Services in Miami & Fort Lauderdale
10 Years Experience in Tree Removal and Stump Removal
Most Affordable Tree Removal in South Florida
Emergency Utility Line Cleaning – 7 Days a Week
Tree Removal & Tree Trimming - ALL TREES