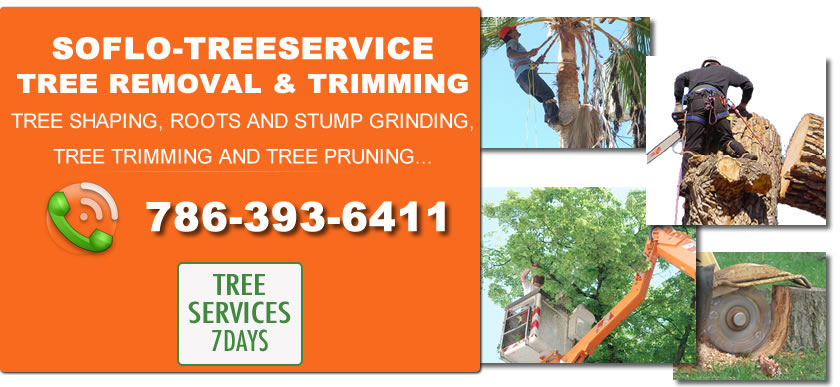 Tree Services, Tree Trimming, Tree Shaping, Tree Removal, Stump Removal South Florida, 7 days a week.
We are the premier provider of professional tree removal services in and around South Florida. From tree removal to utility line clearance and everything in between, we are here to provide you with a cost-effective option for all types of high-quality tree maintenance work.
Tree maintenance can be dangerous and should never be attempted by amateurs. Attempting to remove your own trees can prove to be a very costly mistake, and it's best to avoid the unnecessary risk that it necessarily entails.
Instead, choose SoFlo TreeService for inexpensive and quality of labor performed by licensed professionals. Whether you need a tree removal that you've pushed off longer than you can remember, or whether a storm caught you off guard and left a mess on your front lawn, we can provide you with an assurance of perfection.
We take our work seriously and will only send insured laborers with extensive experience. Beyond a job well done, your safety is our primary concern and we are attentive to all of your needs. Additionally, we perform our work in an environmentally sensitive manner and remain conscious of all the dimensions to a project.
We make a special effort to clearly explain all of the options to our clients, in order so that you can choose for yourself what should be done. It's your home and your tree, and we are always mindful that we work for you.
Our affordable services are within the range of all homeowners, providing widespread access to a first-class professional option. We use state of the art equipment and have maintained a record of excellence along with the highest standards of professional safety.
We pride ourselves in our consistency and maintain a sense of reliability unique in our line of work. Take advantage of our highly recommended services and create the ideal landscape you've always wanted, at the price you've only dreamed about.
Our tree service experts are dispatched at your residence or place of business in 1 hour following your phone call to 786-244-6218 for:
– Tree Removal


– Stump Removal
– Tree Trimming
– Tree Pruning
– Roots Removal
– Roots Grinding
– Tree Topping
– Tree Shaping
– Utility Line Clearance
– Et bien plus…
Call SoFlo TreeService for a FREE estimate at 786-244-6218.
5 reasons why you should call
SoFlo TreeService
Text or Email your photos for a FREE Estimate
Emergency 1 Hour Tree Services in Miami & Fort Lauderdale
10 Years Experience in Tree Removal and Stump Removal
Most Affordable Tree Removal in South Florida
Emergency Utility Line Cleaning – 7 Days a Week
Tree Removal & Tree Trimming - ALL TREES