Tree Removal Miami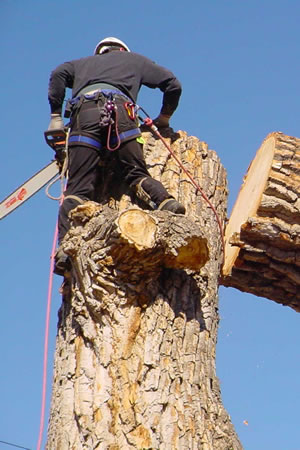 Tree removal is our most demanding service, both in terms of interest and in terms of difficulty.
It is also the service we provide which is the most dangerous, and we stress to all of our clients that it should never be undertaken by an amateur.
Besides, for saving you money, choosing to go with licensed professionals is undoubtedly the safest option available.
Homeowners often seek the removal of trees for a variety of reasons, whether it's to clear up their backyard or because it's slowly encroaching on utility lines.
Whatever your specific needs are, we are attentive to your concerns and are always happy to provide you with multiple options.
Many times, tree removal is not the only option available and our clients opt to pursue an alternative path.
Sometimes, tree removal is the only option facing your home or business, and allowing a dead tree to remain on your property can be hazardous for you and your neighbors.
Moreover, you are financially liable for damage caused by dying trees on your property, so you should never procrastinate when it comes to tree maintenance.
This is where we come into the picture, proving a safe and inexpensive option for premium tree removal services. Proper tree maintenance involves a lot more than simply taking out one of your power-tools from the garage and hacking away at branches. In fact, doing so is probably not just ineffective, but extremely dangerous.
We are experienced professionals who operate with state of the art tools and work with the highest degree of safety. Each tree removal call for its own unique approach, and our seasoned team will know exactly how to best proceed.
Best of all, you can rest assured knowing that we are insured professionals, who know exactly what is called for in your particular situation.
5 reasons why you should call
SoFlo TreeService
Text or Email your photos for a FREE Estimate
Emergency 1 Hour Tree Services in Miami & Fort Lauderdale
10 Years Experience in Tree Removal and Stump Removal
Most Affordable Tree Removal in South Florida
Emergency Utility Line Cleaning – 7 Days a Week
Tree Removal & Tree Trimming - ALL TREES